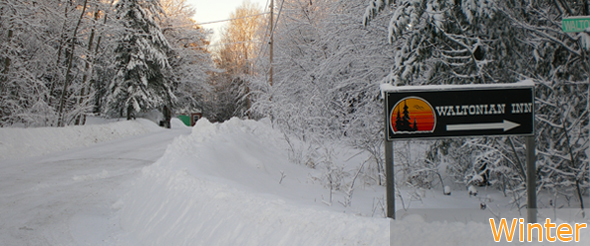 Ice Fishing at the Waltonian Inn - NEW RATES!!!
Welcome to the Waltonian Inn! Here we like to accommodate all of our guests to the best of our ability. The Waltonian offers a variety of fishing packages all of which include fresh linens, transportation to and from your heated ice huts, newly drilled holes, tip-ups, and BAIT! For additional convenience there is a washroom on the ice and an on ice BBQ! Come and relax in the warm and cozy comfort of our lodge. Enjoy our fully stocked bar and pleasingly priced restaurant. Socialize with old friends and new while enjoying a game of pool, cards, shuffle board or simply a nice cold one! Our friendly and welcoming staff are always at your finger tips. Regularly ensuring your safety, comfort and needs on the ice and serving your every desire the moment you step back in the lodge!
*Please note that a non-refundable deposit of $50.00 per person is taken at time of reservation. In addition, guests will pay for the number of people booked at the time of reservation upon arrival*
Check In:
Check Out:
*Transportation too and from shacks at prearranged times - Although the fish bite best at dawn and dusk!
PACKAGES
DAILY HUT RENTALS - $50.00 per person / day
HOUSEKEEPING PACKAGES (MEALS NOT INLCUDED)
***NEW RATES***
Weekend Rates (Friday - Sunday)
Adult: $205.00 + tax / person
Child (Under 12): $147.00 + tax / person
Midweek Rates (Sunday - Thursday)
Adult: $135.00 + tax / person
Child (Under 12): $100.00 + tax / person
| | | |
| --- | --- | --- |
| Weekend | 2 Nights, 2 Full Days of Fishing | $205 + tax / per person |
| Weekend | 3 Nights, 2 Full Days of Fishing | $230 + tax / per person |
| Weekend | 3 Nights, 2.5 Days of Fishing | $270 + tax / per person |
| Weekend | 3 Nights, 3 Full Days of Fishing | $310 + tax / per person |
| Midweek | 2 Nights, 2 Full Days of Fishing | $135 + tax / per person |
| Midweek | 3 Nights, 2 Full Days of Fishing | $160 + tax / per person |
| Midweek | 3 Nights, 2.5 Days of Fishing | $200 + tax / per person |
| Midweek | 3 Nights, 3 Full Days of Fishing | $240 + tax / per person |
AMERICAN PLAN PACKAGES (MEALS INCLUDED)
* All prices plus taxes per person *
Package #1 includes:
(2 days / 2 nights)
2 Nights Accommodations (Linens included)
2 Breakfasts
2 Lunches
2 Dinners
Transportation to & from fish huts
2 days ice fishing *BAIT INCLUDED*
Use of recreational facilities
Midweek discounts
| | | |
| --- | --- | --- |
| Guest | Occupancy | Weekend Rate |
| Adult | Full Occupancy | $307.00 |
| Adult | Individual Bed | $365.00 |
| Child(under 12) | Sharing Double-bed | $210.00 |
Package #2 includes:
(2 days / 3 nights)
3 Nights Accommodations (Linens Included)
3 Breakfasts
2 Lunches
2 Dinners
2 Days ice fishing *BAIT INCLUDED*
Transportation to & from fish huts
Use of recreational facilities
Midweek discounts
| | | |
| --- | --- | --- |
| Guest | Occupancy | Weekend Rate |
| Adult | Full Occupancy | $375.00 |
| Adult | Individual Bed | $446.00 |
| Child(under 12) | Sharing Double-bed | $231.00 |
Package #3 includes:
(3 days / 3 nights)
3 Nights Accommodations (Linens Included)
2 Breakfasts
2 Lunches
2 Dinners
3 Days Ice Fishing *BAIT INCLUDED*
Transportation to & from fish huts
Use of recreational facilities
Midweek discounts
| | | |
| --- | --- | --- |
| Guest | Occupancy | Weekend Rate |
| Adult | Full Occupancy | $419.00 |
| Adult | Individual Bed | $490.00 |
| Child(under 12) | Sharing Double-bed | $280.00 |